"Olives, fish, and wine make the Greeks healthy and so fine!" Kali cackled as she slathered her last pita wedge with hummus. She was a prankster and had lots of sayings and dirty jokes.
"No, it just makes you a lush," commented her sister from the other side of the kitchen.
Dia and Kali, two middle-aged sisters from Mykonos, co-owned the Taste of Greece; an awesome little dive that offered great wine, food, and an unfortunate English homophone.
During my two years with these ladies, I endured countless hours of Yanni performances to earn money for college. Thankfully, I also gained knowledge that still serves me today: Greek phrases inappropriate for polite society, a case study on sibling rivalry in seniors, and one awesome recipe for spinach and feta cheese pie. This is a great way to add veggies to your menu.
Supplies:
Colander
1 baking tray
2 trays or cutting boards
Wax paper
Kitchen towel
Pastry brush
1 large bowl
1 small bowl
Sharp knife or scissors
Ingredients:
Phyllo dough
2 8-ounce bags frozen spinach, chopped
8 ounces feta cheese
1/2 cup mozzarella
1 bunch green onions
2 tablespoons garlic
2 tablespoons dill weed
1/4 cup parsley
1 tablespoon lemon juice
Pepper and nutmeg, to taste
1 slightly beaten egg
1 cup melted butter mixed with equal amount of olive oil
Instructions
The filling: After draining the spinach, mix in all ingredients minus the egg. Mix well, then add the egg. It acts like a glue to hold the filling together.
Working with phyllo: This dough is delicate, like antique parchment paper. The key is keeping it covered. Have a tray or cutting board ready with wax paper covered with a damp kitchen towel.
Take out one of the plastic bags from the box of phyllo dough, and cut it into thirds. You will have three sections of rolled-up dough. Put two of the strips in a storage bag, and seal it for later. Unroll the last one on your empty tray, placing the wax paper and towel over it.
Triangle folding: Set up all your supplies: covered tray of phyllo, large bowl of spinach mix, empty tray to work on, baking tray, and small bowl of butter and oil with a pastry brush.
Remember making little paper footballs with notebook paper? That's what you do with the phyllo here. Take two sheets, and lay them on the empty tray. Put a spoonful of the spinach mix at one end of the phyllo. Fold one corner down and across the filling, making a triangle shape. Continue folding the length of the phyllo strip.
Brush the finished triangle with the butter/oil mixture, and put it on the baking tray. When the tray is full, bake for about 20 minutes at 375 degrees F until they're golden brown.
Enjoy the yummy, flaky goodness!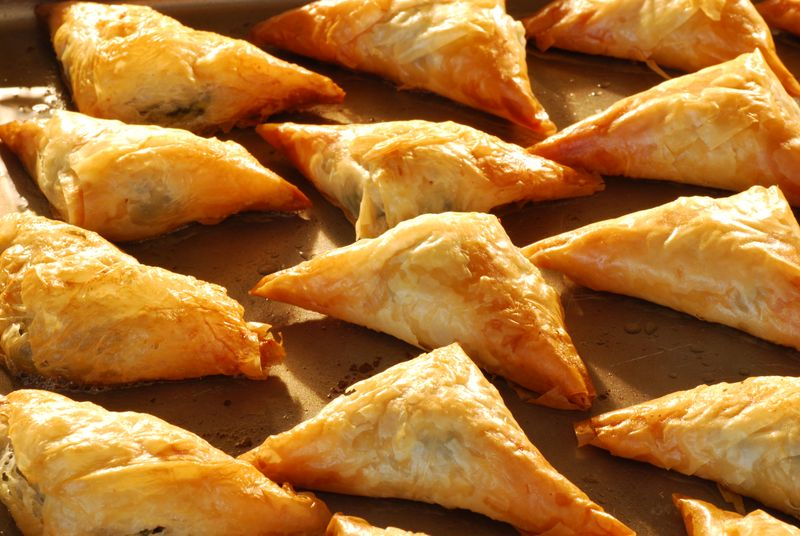 Caveats: There are two things that will ruin this recipe.
Spinach: After thawing the spinach, you have to wring out the excess water by hand or held over the sink between two plates.
Phyllo dough: requires a little preparation, and once it's exposed to air, you have limited time to work with it before it just disintegrates. Also, typically you find it in the freezer section, so make sure you defrost it in the refrigerator overnight. Leaving it out on the counter to defrost doesn't work. You'll just have a gooey mess.
Tip: I always triple and quadruple this recipe, and fill up extra trays with the triangle pies. Wrap them in wax paper and plastic cling, and put them in the freezer for later. They are an excellent snack and great to bring anywhere for finger foods. They go right in the oven and bake.
This post submitted by Misty from The Mommies Network's Content Team