Being from the South, there are things we are known for: cooking, hospitality, a good ol' Southern drawl, and a love for our college football!
College football in the South is full of pomp and circumstance, ranging from simple events to all-out affairs! And if you think regular run-of-the-mill games are over the top, you should see rivalry games!
I am from South Carolina. I have never lived anywhere else. I grew up in Greenville, South Carolina, just a short drive to Clemson University. In my family, we are Clemson fans. Big-time.
As a child, my father would take us to the Clemson games. We were IPTAY members and had season tickets. On game day, we would decorate our car with magnetic tiger paws, flags, and of course, the tiger tail hanging out of the trunk. I fondly remember the feeling of excitement and pride as I would get dressed in my Clemson colors and prepare for the game. Daddy would stop and get our tailgate food (usually some sandwiches from Duke Sandwich Shop, which, by the way, still makes some of the best sandwiches you have ever put in your mouth, or fried chicken) and off we would go. As you get closer to Death Valley (the football stadium at Clemson), there are tiger paws emblazoned on the roads. By this point, you're bursting with excitement. We would park in our spot, have our picnic tailgate, and watch the excitement build in each and every fan there.
As you enter Death Valley, you are overcome with the feeling of being part of something much more than the love of the game or football as a sport. You are part of a Clemson tradition and a Tiger Pride that is nearly palatable. You just can't help but be caught up in the moment. From the moment the players run into the field, also know as The Most Exciting 25 Seconds in College Football, to each singing of "Tiger Rag," you just know you're a part of greatness, and you can feel it with every roar of the crowd.
Now, don't get me wrong, Clemson sometimes forgets it is great. and it has had some less than stellar seasons, but I am a loyal fan through the ups and downs. This year, though, we have remembered our greatness, and the ACC has been reminded of it, as well.
I live in Charleston now, and getting to the games takes a bit more planning (like where to stay, tailgate menus, and so on). Now, that I am older (ugh, did I just write that I am older?) — scratch that, start again. Now that I am in charge of my tailgate experience, it is a bit different than it was when it was just Daddy and me. Tailgating these days consists of carefully designed menus, tents, friends, game-day dresses and outfits, and full fanfare (although we only make it to maybe one home game a year now).
Since we do live farther away, we also have tailgate parties from home. I can assure you that for the most part, the components are the same: lots of food, friends, game-day wear, and football. But the real glory of the game is missing. Don't get me wrong, I love our tailgate parties here, but nothing beats being there.
This blog post has been centered on Clemson football, because that is what I know and love. Every fan has a similar experience with their team, I am sure. I just wanted to share what my experiences were and are, and hopefully encourage you, the reader, to go to a game to experience the greatness and be a part of something that will live in you forever.
To help your tailgate planning, here are some of our favorite game-day foods (these can all be prepared a day ahead, which will make things even easier).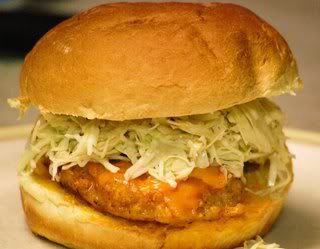 Buffalo Chicken Sandwiches
With Bleu Cheese Coleslaw
Ingredients
Deli-style buns
Boneless chicken breasts
Frank's RedHot Buffalo Wings Sauce
1 (16-ounce) package shredded coleslaw mix
1/4 cup finely chopped sweet onion
1/2 cup cider vinegar
3 tablespoons white sugar
1 teaspoon salt
1/2 cup mayonnaise
1/2 cup sour cream
1/2 cup crumbled blue cheese
Salt and pepper to taste
Instructions
The night before the big game, prepare your coleslaw.
Toss together the coleslaw mix and onion in a bowl. In a saucepan, mix the vinegar, sugar, and 1 teaspoon salt. Bring to a boil. When sugar has dissolved, pour over the slaw mix and onion. Toss to coat, and let stand 15 minutes.

Drain the slaw mix in a colander, and return to the bowl. Toss with mayonnaise, sour cream, and blue cheese. Season with salt and pepper. Cover and chill overnight for the best results, but if you forget, you'll be fine as long as it has at least 1 hour in the refrigerator before serving.
On game day, coat your chicken breasts with a generous coating of wing sauce, and then grill until done. Place your piping hot chicken on your bun, top with coleslaw and bun top, and enjoy! This coleslaw is also awesome on hot dogs and hamburgers!
Chicken Stew
This one is great for cold game days. Make it ahead, and put it in a Crock-Pot for game day to keep it warm.
Ingredients
1 whole chicken
1 large onion, chopped
1 small bag of peeled baby carrots
1 12-ounce container of fresh sliced mushrooms
2 teaspoons minced garlic
1 can of corn
1 can of chopped chiles (in the Mexican food section of a grocery store)
3/4
cup uncooked rice
1 tablespoon Cajun seasoning
Salt and pepper to taste
Prepare the chicken by removing the giblets and neck pieces.

Place the chicken in a stockpot with just enough water to cover the chicken, then add the garlic.

Cook covered on medium-low on the stove for 2

1/2

hours.

Remove the chicken and garlic from the stockpot with a strainer, leaving the stock in the pot.

Add chopped onion, carrots, and mushrooms to the stock, and cover and cook an additional 30 minutes.

While the vegetables are cooking, remove the meat from the chicken.

When the chicken is picked and shredded, add to the stock.

Add Cajun seasoning, rice, chiles, and corn.

Cover and cook an additional 20 minutes.

Serve with corn bread or saltines.
Beer Cheese Dip
2 blocks of cream cheese, softened
2 cups shredded cheddar cheese
1 packet of Ranch dressing
1/2
can of beer of your choosing
Mix all the ingredients together. Refrigerate overnight, and serve with Fritos Scoops.
I hope you enjoy the recipes and the excitement of game day as much as we do!
Post submitted by Jill from The Mommies Network's Content Team